This local craft has a history of 1200 years, being passed down for generations. The otaka poppo itself is a simple but beautiful craft, being carved with a single tool and painted afterward.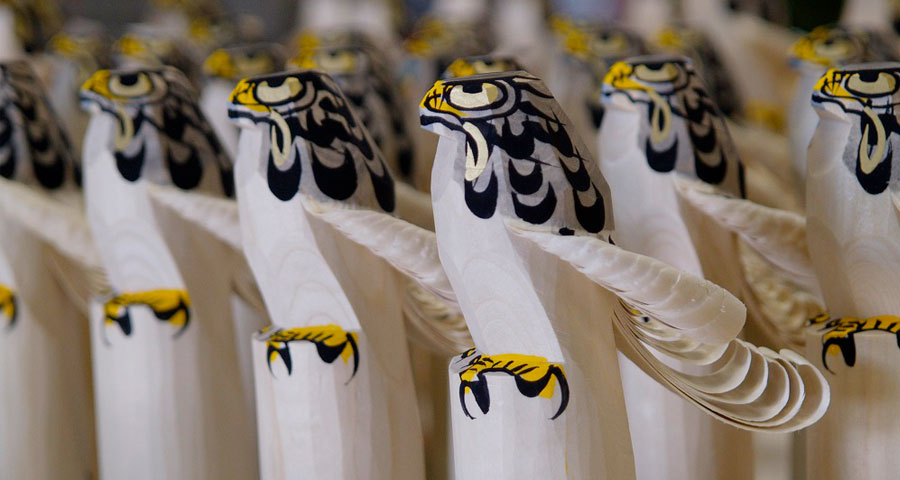 Sasano Ittobori (literally "Sasano Single Blade Carving") is a traditional craft that has been passed down in the southern region of Sasano for over 1,200 years. Sakanoue no Tamuramaro, a warrior who lived during the Heian period, is said to be the tradition's progenitor after he presented a woodcut flower (known as Sasano flowers today) at Sasano Kannon as a prayer for victory. The craft was then passed down as an auspicious act of worship.
The signature Sasano Ittobori creation is the Otakapoppo. "Poppo" means toy in the Ainu language while "taka" is Japanese for hawk. The hawk is associated with Uesugi Yozan both for its strength and also for the shared kanji (鷹) in their names. Thanks to these connections, hawk-shaped products were seen as lucky charms believed to bring bountiful harvests to farmers. In a time when rice was the backbone of the economy, they were akin to attracting economic prosperity. Farmers were also encouraged to carve these hawks as a source of side income during winter. Carvers use a special knife known as Sarukiri to carve the wood of koshiabura (Chengiopanax sciadophylloides) in the hawk's likeness. Its details are then painted on with black and yellow paint.
The hawk's sharp glare and curled up feathers are key features to look out for in an Otakapoppo. With its rustic yet regal finish, the Otakapoppo is also a popular choice of gift.