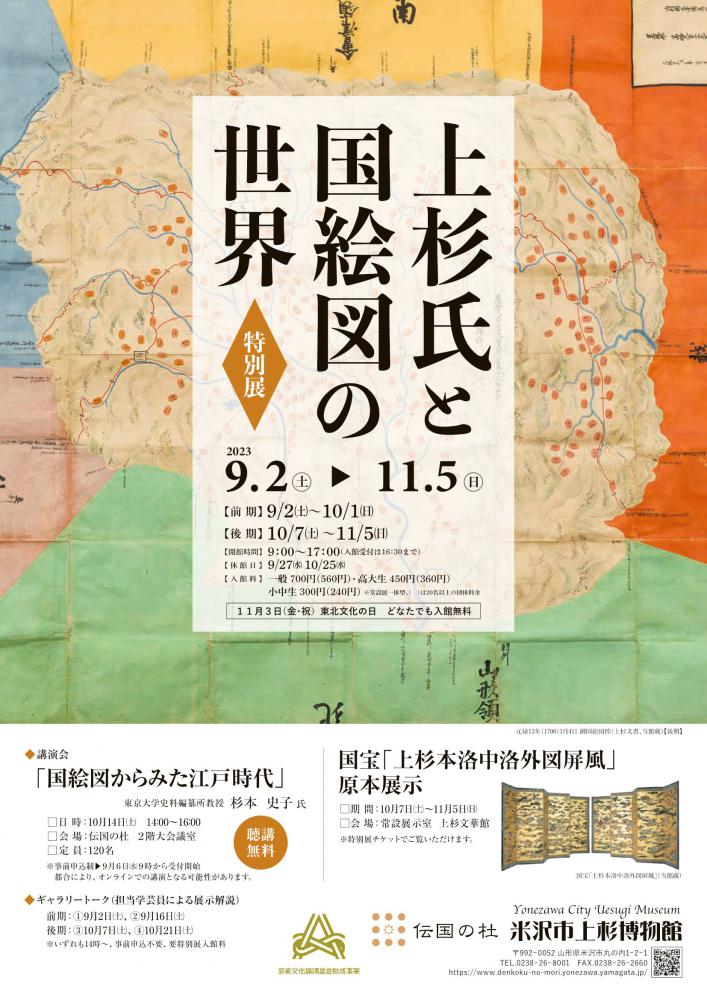 Drawings of all kinds, such as road illustrations, village maps, and castle town maps, were created using a wide array of methods with various purposes in mind. The Edo shogunate poured their resources towards the creation of kuniezu (Japanese provincial land maps) during their rule. This exhibit will introduce you to the process of creating kuniezu, along with kuniezu created by the Yonezawa domain and other relevant documents. Take a look at Edo Japan through the historic lens of the kuniezu!
Exhibition Period
First half: 2nd September 2023 (Saturday) ~ 1st October 2023 (Sunday)
Second half: 7th October 2023 (Saturday) ~ 5th November 2023 (Sunday)
Please note that the museum will be closed on 27th September and 25th October (Wednesdays).
Opening Hours
9:00 am ~ 5:00 pm (Last entry at 4:30 pm)
Entry Fees
Regular – 700 yen (560 yen)
High school and University students – 450 yen (360 yen)
Middle and Elementary school students – 300 yen (240 yen)
* Fees include entry to the permanent exhibits. Prices in brackets are for groups of 20 and above.
* Entry is free on 3rd November (Friday, national holiday) because of Tohoku Culture Day.
Exhibition Lecture – The Edo Period as Seen through Kuniezu (Free entry)
Lecturer: Sugimoto Fumiko (Professor at Historiographical Institute, The University of Tokyo University)
Date: 14th October 2023 (Saturday)
Time: 2:00 pm ~ 4:00 pm
Venue: Denkoku no Mori Grand Meeting Room (2F)
Participant Limit: 120
Registration begins from 6th September 2023 (Wednesday) at 9:00 am

Gallery Talk (Registration not required)
Dates: 2nd September, 16th September, 7th October, 21st October (Saturdays)
Time: 2:00 pm for all sessions

* The curator in charge of the exhibition will explain the exhibited materials.
* Please note that you must pay for entry to the special exhibit.
Limited Time Display of the Authentic National Treasure – Rakuchu Rakugaizu Byobu (Uesugi Version)!
Dates: 7th October 2023 (Saturday) ~ 5th November 2023 (Sunday)
Venue: Permanent Exhibition Hall, Uesugi Bunkakan
Contact
Denkoku no Mori Yonezawa City Uesugi Museum
992-0052
1-2-1 Marunouchi, Yonezawa
TEL: 0238-26-8001
FAX: 0238-26-2660