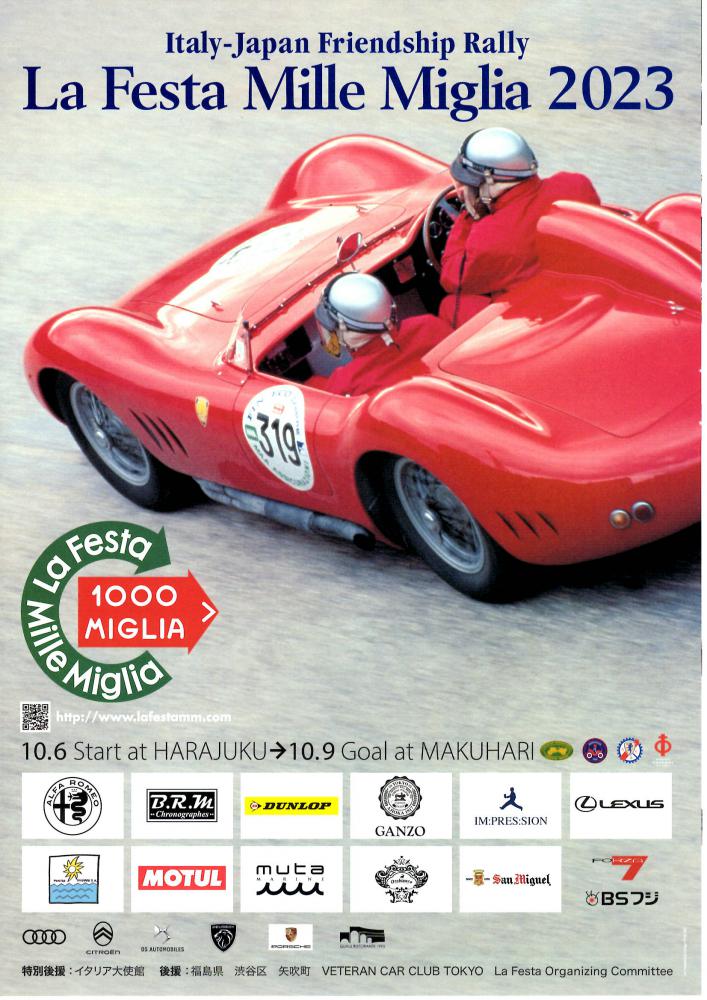 La Festa Mille Miglia 2023 is an official FIVA event that will begin on 6th October, Friday! On 7th October, Saturday, the classic cars will pass through Uesugi Shrine and Onogawa Onsen as part of the course!
Be sure to check it out!
Drive-by Date
7th October 2023
Locations and Times
Uesugi Shrine – 11:45 am ~ 12:30 pm
Onogawa Onsen – 12:00 pm ~ 12:45 pm
Contact
La Festa Organisation Committee
TEL: 046-874-4626

What is the La Festa Mille Miglia about?
(taken from the official website's Objectives page)

La Festa Mille Miglia will mark its 26th autumn event this year.
Since the event's inception in 1997, we have consistently upheld three basic principles: "Respect for the old", "No matter how old you are, be young at heart," and to "Expand the circle of friendship with all those involved."
This spirit remains unchanged for our 26th event.
Three years have passed since the global coronavirus pandemic began in 2019 and changed our lives.
At first, we did not know how to deal with the unknown virus.
We were unsure of how we should cope with the changes to our lives and we reacted with different emotions at the information reported in the media.
Our lives have now started to slowly return to normal.
This will be the third time that La Festa Mille Miglia will be held during the pandemic.
We will support and make every possible preparation for a successful La Festa Mille Miglia.
The vehicles participating in La Festa are all analog vehicles that call back to a different time.
Participants will face various difficulties and challenges not only during the event but also before participating.
With these cars it is not as easy as fixing a problem in a modern car with just a single chip.
However, when we overcome difficulties like this and reach the final goal of the event, we can be very happy and proud of our accomplishment.
In today's digital age, there seems to be great value in the hardship and challenges of working with our hands.
La Festa Mille Miglia will continue to enjoy such hardships as it runs through the Tohoku region this fall.