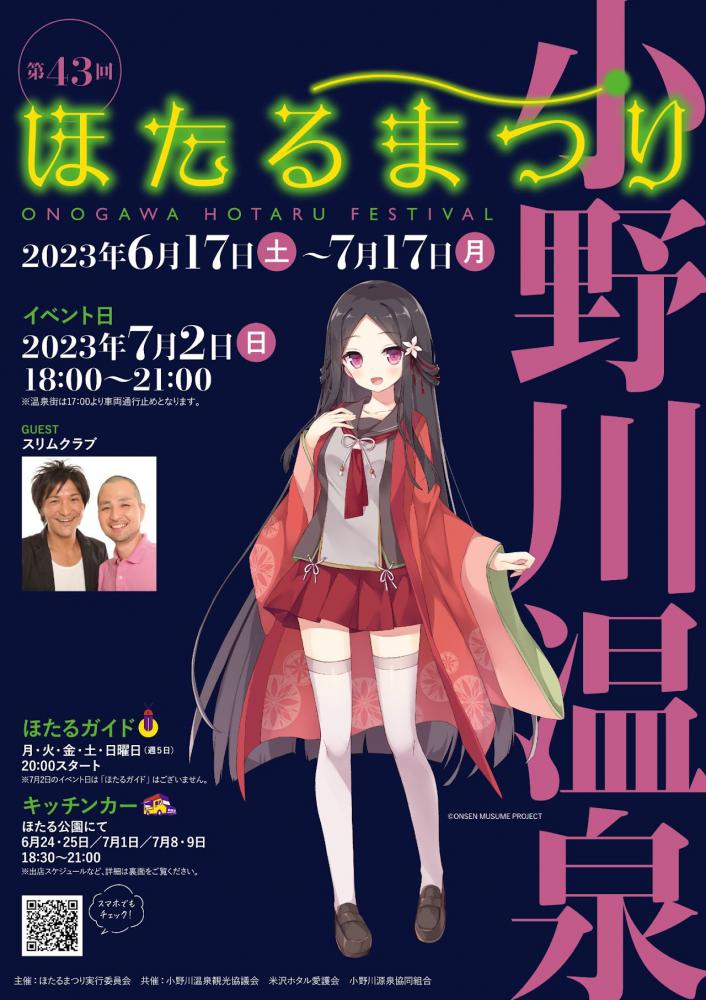 The Onogawa Onsen Firefly Festival is starting very soon! If you're here for the summer, make sure not to miss out on this absolute highlight of the night! You can see different types of fireflies depending on when you visit, so keep your eyes peeled when you stop by!
Firefly Viewing Period
Mid-June to Mid-July
Time: 8:00 pm ~ 9:00 pm
Venue: Onogawa Onsen Firefly Park
Notes for Viewing
–    Do not use flash photography or lights
–    Do not capture or touch the fireflies
–    Take any rubbish back with you
–    Keep quiet, do not be noisy
Firefly Guides
A tour guide from the onsen town will guide you to the prime viewing spots for fireflies.
Duration: 30 minutes
Available Days: 17th June 2023 ~ 17th July 2023, every Monday, Tuesday, Friday, Saturday, and Sunday
Time: 8:00 pm onwards
* Firefly guide services will be closed on 2nd July (Sunday) for the Firefly Festival.
Firefly Festival
Date: 2nd July 2023 (Sunday)
Time: 6:00 pm ~ 9:00 pm
The comedy duo, Slim Club, are guest stars for the festival.
Food Truck availability
If you need to grab a bite while you're out, make sure to stop by on these dates!
Dates: 24th June (Saturday), 25th June (Sunday), 1st July (Saturday), 8th July (Saturday), 9th July (Sunday)
Venue: Firefly Park
For more information, check out this poster (Japanese)