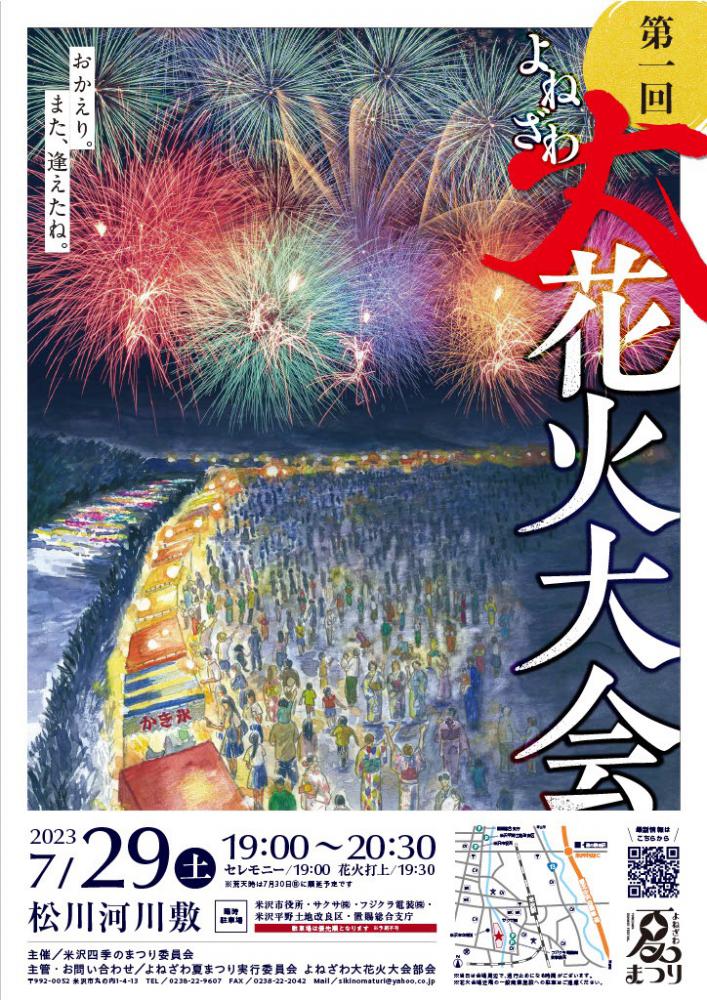 The first Yonezawa Grand Fireworks Festival will be held this Saturday, on 29th July! 
Yonezawa's summer pastime has returned in a brand new fashion! Watch out for highlights of the night, including fireworks launched in sync with the background music, the artistic fireworks personally curated by the pyrotechnicians, and the panoramic fireworks view formed by launching the fireworks from three locations simultaneously!
Entry is free, so do stop by and have a blast!
Date: 29th July 2023 (Saturday)
Time: 7:00 pm ~ 8:30 pm
Schedule
Ceremony – 7:00 pm
Fireworks Launch – 7:30 pm ~ 8:30 pm
* In the event of severe weather conditions, the fireworks will be postponed to 30th July (Sunday).
Venue: Matsu River Riverside (Matsukawa Kasenshiki)
Parking: Yonezawa City Hall & nearby office buildings (Saxa, Inc., Fujikura Automotive Asia Ltd., Okitama Administrative Office, Yonezawa Heiya Tochi Kairyou Ku
* Lot availability is based on a first-come-first-served basis.
* Booking of parking space is not required.

Contact
Yonezawa Summer Festival Committee (Yonezawa Grand Fireworks Festival Team)
TEL: 0238-22-9607