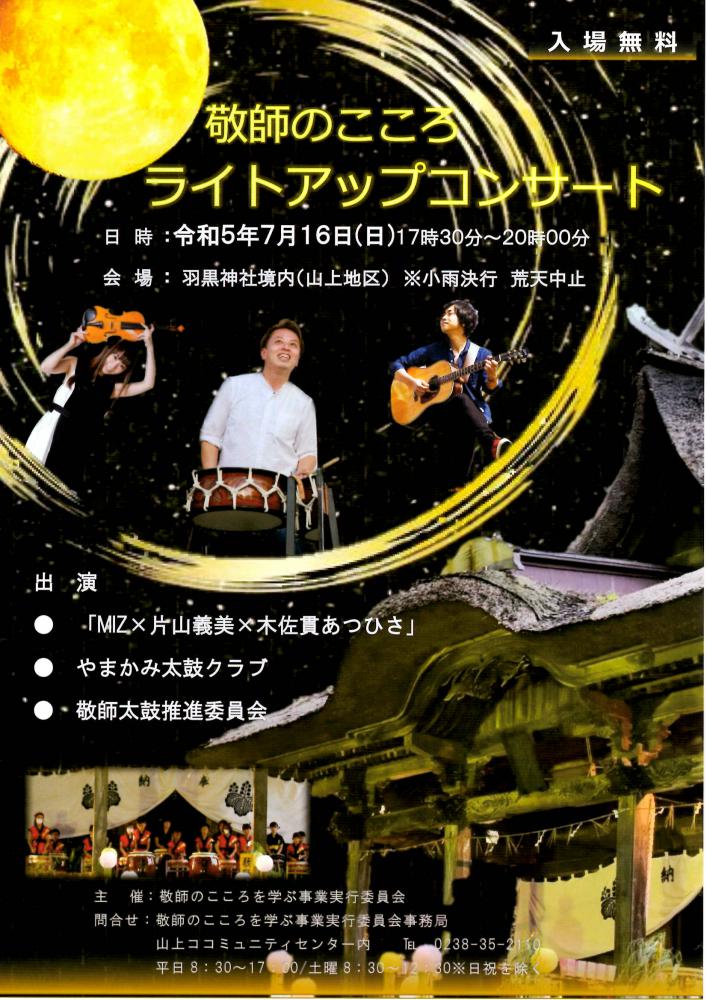 As part of the upcoming Benibana Festival (1st July 2023 ~ 31st July 2023), an outdoor concert will be held at Haguro Shrine!
Entry is free for all, so do stop by if you're in the area!
Date: 16th July 2023 (Sunday)
Time: 5:30 pm ~ 8:00 pm

* The concert will proceed even if it rains. It will be cancelled in the event of severe weather conditions.
Venue: Haguro Shrine (between Sekine Station and Yamakami Community Center)
Performers
– MIZ/Yoshimi Katayama/Atsuhisa Kisanuki
– Yamakami Taiko Club
– Keishi Taiko Promotion Committee

Event Schedule
5:30 pm – Opening Ceremony
5:50 pm – Uketsugu Kokoro (Keishi Taiko)
6:15 pm – MIZ/Yoshimi Katayama/Atsuhisa Kisanuki
7:45 pm – Joint performance by Atsuhisa Kisanuki and Keishi Taiko
8:00 pm – End
Contact
Committee for Teaching about the Spirit of Keishi (Keishi no Kokoro wo Manabu Jigyou Jikkou Iinkai Jimukyoku)
Yamakami Community Center
TEL: 0238-35-2110
Operating Hours:
8:30 am ~ 5:00 pm (Weekdays)
8:30 am ~ 12:30 pm (Saturdays)
Not available on national holidays and Sundays.