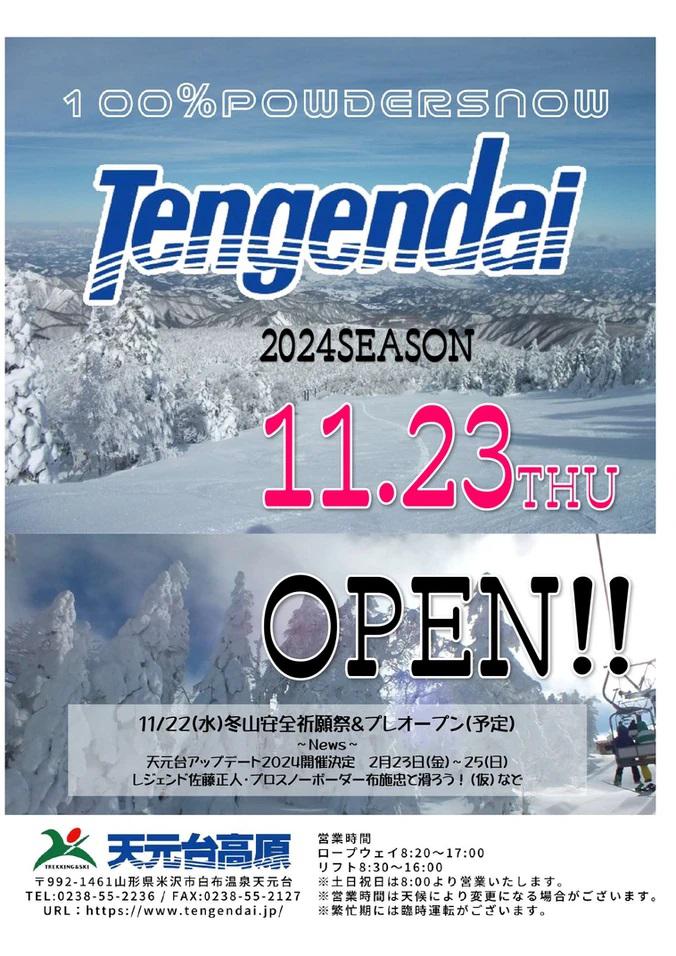 Are you ready for some winter sports? Tengendai Ski Area will open on 23rd November (Thursday, national holiday) for the winter season! Pre-opening for the ski slopes and a safety prayer ceremony will be held on 22nd November (Wednesday).
Please also note that the opening day may be postponed depending on the snowfall.
Activities
22nd November (Wednesday) – Mountain Safety Prayer Ceremony (10:00 am, slopes pre-open after the ceremony concludes)
23rd November (Thursday, national holiday) – Ski Area opens
Early bird ski campaign will be held from 23rd November until 15th December (Friday). Each visitor who goes to Yumoto station during the abovementioned period will receive a 20% discount coupon for the next day pass they purchase!
9th December 2023 (Saturday) ~ 25th February 2024 (Sunday) – Tengendai Kogen Kanjiki & Snowshoe Experience Tour
Don snowshoes or kanjiki and explore Tengendai Kogen at heights of 1,350 m! The panoramic view of the five famed peaks of Yamagata and the Yonezawa basin is a highlight to look out for!
31st December 2023 (Sunday) – New Year's Countdown and Hatsumoude Shrine Visit to Tengendai Shrine (11:50 pm ~ 1:00 am)
A countdown for those who are staying near the Tengendai Kogen ropeway station for the night! Visitors to the shrine will be served tama konnyaku, sake straight from the cask, and can try their luck at the lucky draw!
For other events and schedule details, please check here.
Contact

〒992-1461
Shirabu Onsen Tengendai, Yonezawa-shi
TEL: 0238-55-2236