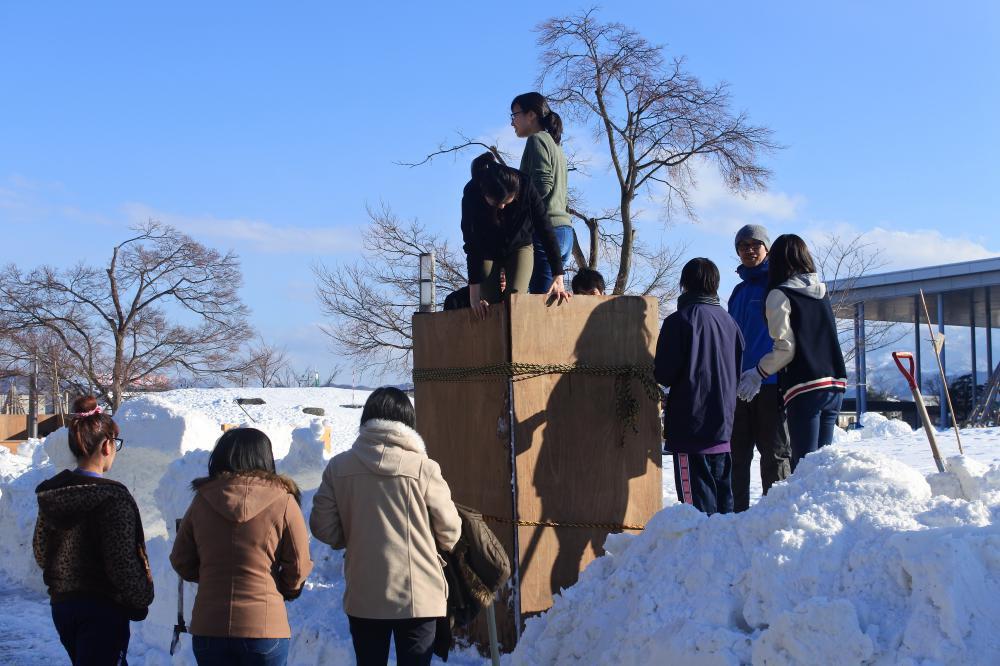 Are you ready for the Yonezawa snow? The Uesugi Snow Lantern Festival will be held next year on 10th and 11th February, and we are looking for volunteers to help build the signature snow lanterns! Call up a few friends and this can be a fun get-together as you try making one yourselves! More than 200 snow lanterns are built for the festival this way! We also accept sign-ups from organisations such as schools, neighbourhood associations, offices, and many more!
We look forward to your participation!
Festival Dates: 10th and 11th February 2024 (Weekend)
* Pre-lighting will be done on 9th February (Friday)
Recruitment Period: 15th November 2023 (Wednesday) ~ 18th December 2023 (Monday)
Crafting Dates
The snow lantern building consists of 2 parts which are done on different days – building the mould (known informally as the "tofu"), and carving the lantern details. Details are available here (English).
Mould building: 5th February 2024 (Monday) onwards
Detail carving: 7th February ~ morning of 10th February 2024 (Saturday)
* Those who are tasked with making the snow lanterns along the path leading to Uesugi Shrine have to complete them by the morning of 9th February (Friday).
Participants per snow lantern: 3-4 persons
* The staff will assist first-timers.
Things to bring: Snow shovels, sleigh shovels
* Staff will provide you with plywood, rope and other equipment.
Registration
Download and fill in the registration form here: Japanese English
Physical copies are also available at the address stated below.
Submit the form digitally to the email stated below, or by handing the physical form to the same address.
For more information, check the registration pointers here (Japanese)
Contact
Uesugi Snow Lantern Festival Organisation Committee (Yonezawa City Tourism Division)
〒 992-8501
5-2-25 Kanaike, Yonezawa-shi, Yamagata
TEL: 0238-22-5111
FAX: 0238-24-4541