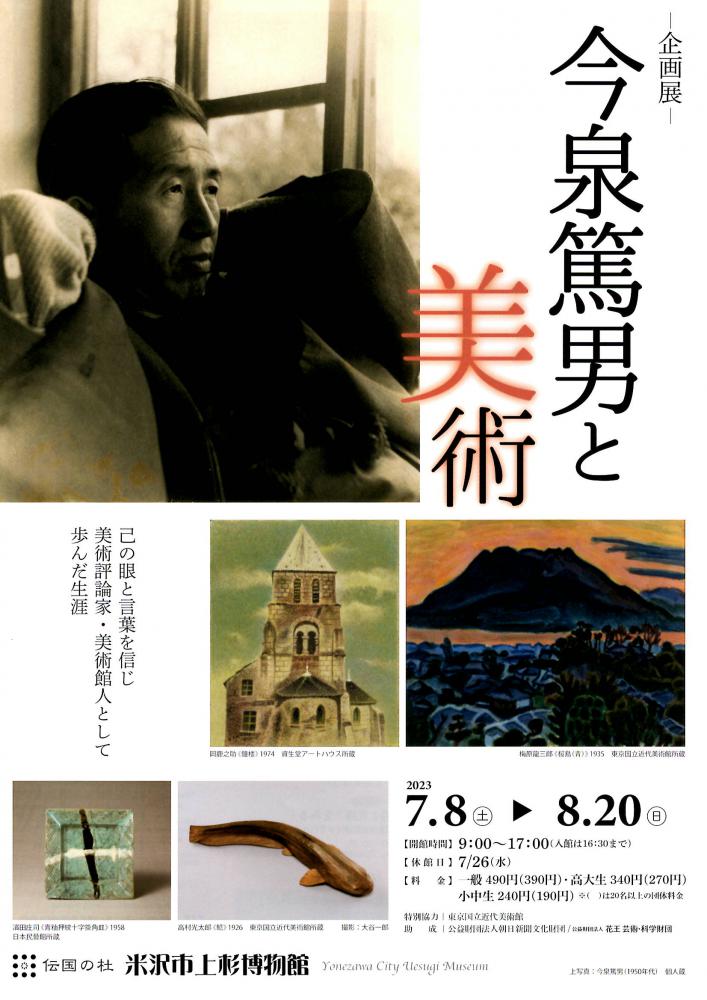 Born in Yonezawa, Imaizumi Atsuo (1902-1984) was an art critic who served as the first deputy director of the Museum of Modern Art, Tokyo and the first director of the National Museum of Modern Art, Kyoto in his lifetime. This exhibit features his many illustrious achievements through the works of artists with connections to him and his very own comments.
Exhibition Period
8th July 2023 (Saturday) ~ 20th August 2023 (Sunday)
* Closed on 26th July 2023 (Wednesday)
Opening Hours
9:00 am ~ 5:00 pm (Last entry at 4:30 pm)
Entry Fees
Regular – 490 (390) yen
High school and University students – 340 (270) yen
Elementary and Middle school students – 240 (190) yen
* Prices in brackets apply to groups of 20 people or more.
Gallery Talk (Registration not required)
Explanation of the exhibition by the curator in charge
Date: 8th July 2023 (Saturday)
Time: 2:00 pm
Venue: Special Exhibition Room
* You must pay for entry to the exhibit.
Lecture (Free Registration Required)
Title: Recalling the Memories of My Father, Hourin, and Imaizumi Atsuo
Speaker: Fukuoji Kazuhiko
Date: 15th July 2023 (Saturday)
Time: 2:00 pm ~ 3:30 pm
Venue: Denkoku no Mori Grand Meeting Room (2nd Floor)
Capacity: 120 people
* Registration begins from 6th June 2023 (Tuesday), 9:00 am.
Night Tour (Registration required)
A leisurely guided night tour through the exhibit, complete with explanations!
Date: 28th July 2023 (Friday)
Time: 7:00 pm ~ 8:30 pm
Capacity: 20 people (A parent/guardian must accompany participants of middle school age and below)
Participation Fee: 500 yen
* Registration begins from 28th June 2023 (9:00 am)
Contact
〒992-0052
1-2-1 Marunouchi, Yonezawa-shi, Yamagata
TEL: 0238-26-8001
FAX: 0238-26-2660